Presenting…The "To-Go" Makeup Bag
I'm not that well versed in the beauty game but one thing I can say that CHANGED MY LIFE was, the creation of my "to-go" makeup bag. 🙌👛💄
Living such a busy life and always on the go, I found myself getting super stressed in the morning trying to grab my essentials before heading off to work so that I could freshen up before whatever lunch date, blog event, friend dinner, date night etc etc. I knew there had to be a better way… and there was….
Keeping a makeup bag with all the favorites in my backpack/work bag, hellloooo! Seems so obvious, no? Well, it took me awhile to realize how crucial my to-go makeup bag really is and even more so to realize I needed to pass along this tip! So here's how I created the perfect little kit…💅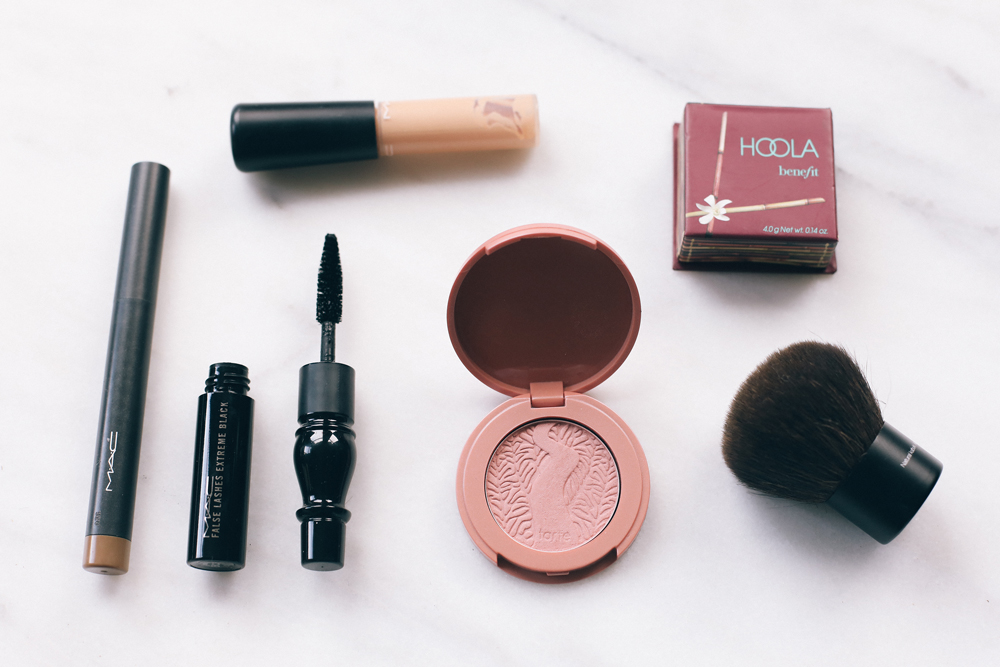 1. Double up on your must have makeup. Yesss, just sack up and buy duplicates…You'll thank me later. For me, that means mascara, concealer and bronzer (+ mini Kabuki brush). The blush & eyebrow pencil are "nice to haves." 😉
TIP: Check if they make travel size versions of your faves,  lot's of companies make minis! I was so shocked to find this mini Hoola!  (Actually, MAC has an entire travel size section! Perfecttttt for to-go bag needs).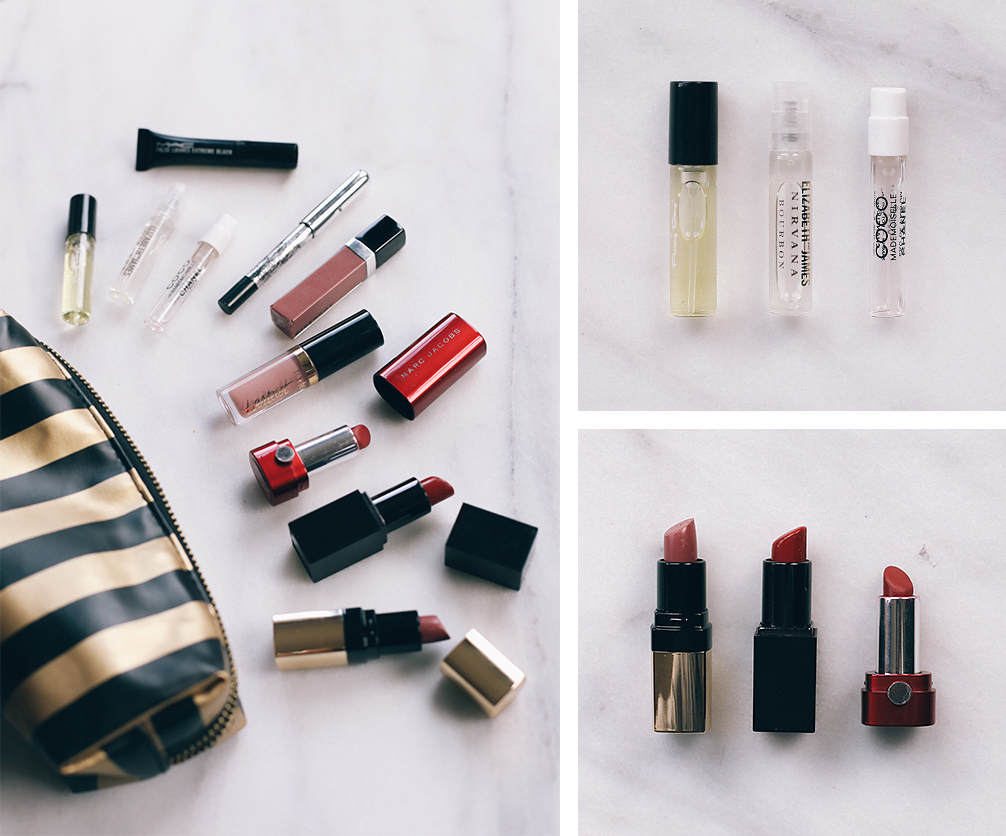 2. Every time you get a sample (lipstick, perfume, eyeshadow etc) stick it in there!! It wont happen overnight, but if you start today you'll have a killer kit on your hands in no time! (💄🔝 = yes, all samples!!) 😄😄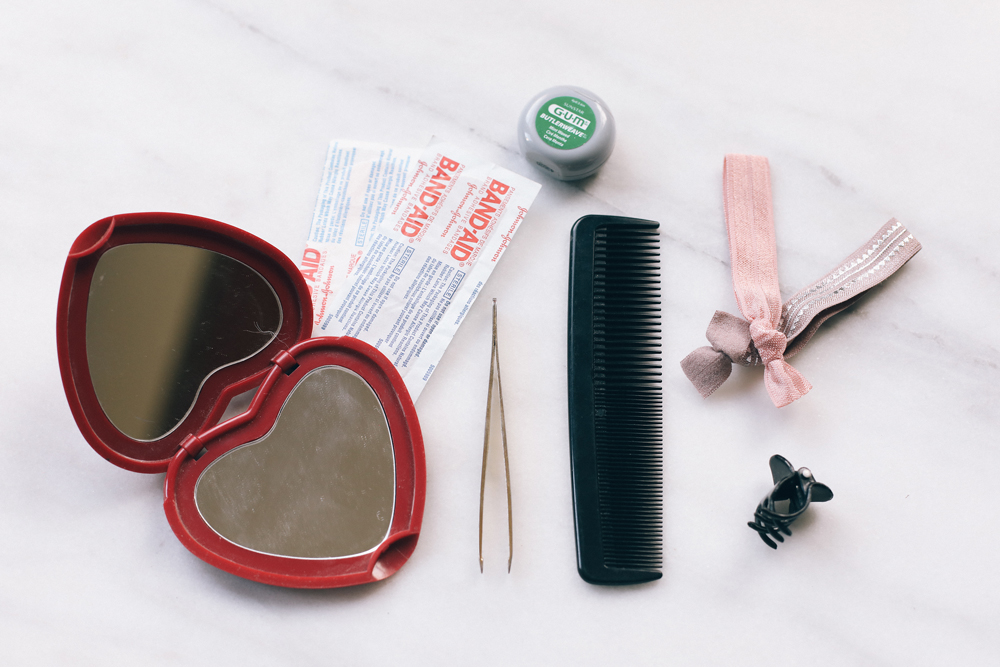 3. Don't forget the other random beauty needs.👆👆 I always carry bandaids for surprise blisters and who doesn't need an extra hair tie more often than you'd like to admit?!  Instead of a small hairbrush, carry a mini comb. Way easier to fit and can totally get the job done.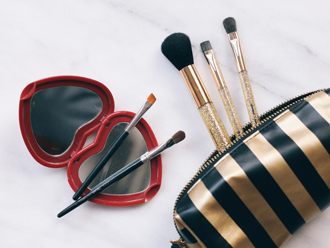 *Optional* small makeup brush set (ditch the casing). If you're carrying any eyeshadows or eyebrow fillers, don't overlook this ahah! Finger is not a good substitute.😆 Either way, *not optional* is a Kabuki brush for powders/bronzers.
Pssssttt!! Don't forget a compact mirror! So crucial, I'm not trying to be the person sitting in the front seat of an Uber using their mirror. 🤣🤣 Basically, the entire key to this "to-go" makeup bag. ✔️✔️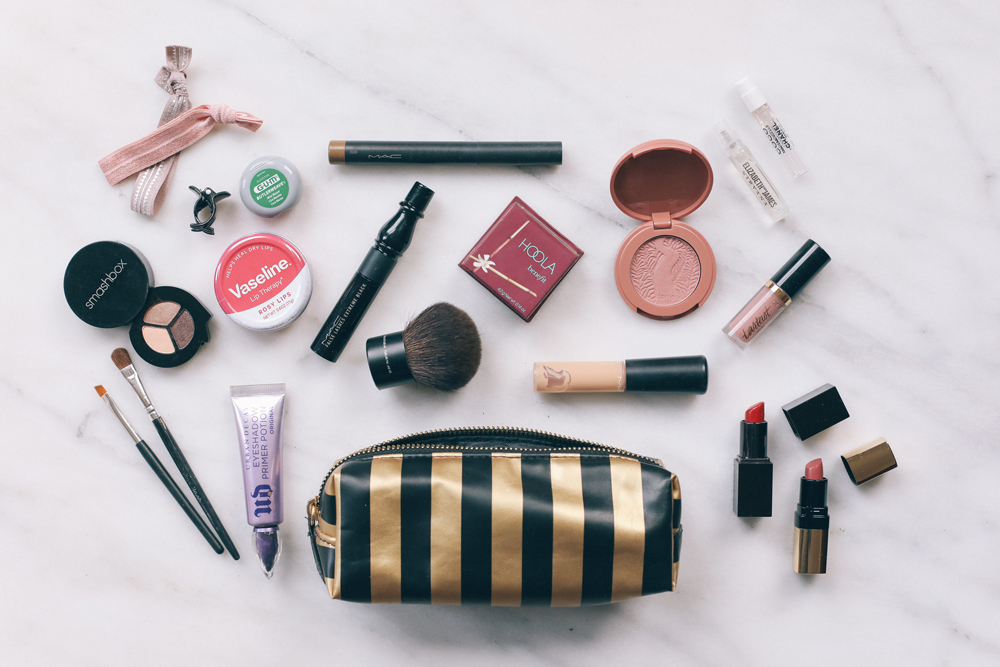 Voila! All the components of a perfect to-go makeup bag.
I just leave mine in the backpack I carry most days, but grabbing it to move it elsewhere is sooooo much easier than grabbing all it's individual insides. One of my main goals in life is to constantly adjust my daily patterns to relieve stress, and this definitely saved a lot of gray hairs 😅
💋💋💋,
Kendall
SHOP TRAVEL SIZE MAKEUP BAGS
[show_shopthepost_widget id="2993013″]
SHOP MY FAVORITE ESSENTIALS:
[show_shopthepost_widget id="2993024″]