Even though I didn't get to attend NYFW last month (so devastated I threw my own after party 😆), I did pay attention to what is gunna be BIG this spring…Cue: the trench coat. Khaki is another thing having a big moment so this prob influenced the utilitarian trench revival as well…
Shop the trend:
Tbh…when I started to get dressed in the very typical, what I "thought" matched a trench coat vibe (*cough cough* skinny jeans and boots) I felt a bit way too much like Carmen Sandiego 💃🔎🕵🏼‍♀️😂  (BTW if you're looking for her… I saw her tossing back dirty martinis at a bar last weekend, can't say I blame her though 💕🍸😜).  Anyway, so I ditched the Carmen look and went for a more fashion-forward, oversized silhouette. Much more satisfied. 👍🏼👍🏼🆒
With the trench, it's all about the styling.
I liked the challenge of modernizing the the classic trench with wide-leg trousers and Adidas, V "street style" 😉👌🏼 If it's warming up where you are, swap the oversized turtleneck with a large tee; but remember that half-tuck is KEY! 😉 Prefer something "softer"? Give the coat a modern update with an unexpected shade & drapey fabric cuts, like this baby blue trench or pink duster trench.
Plus it's basically just a glorified robe, and who wouldn't want that?! 😜 Either way, the trench coat is this seasons outerwear MVP. ✔️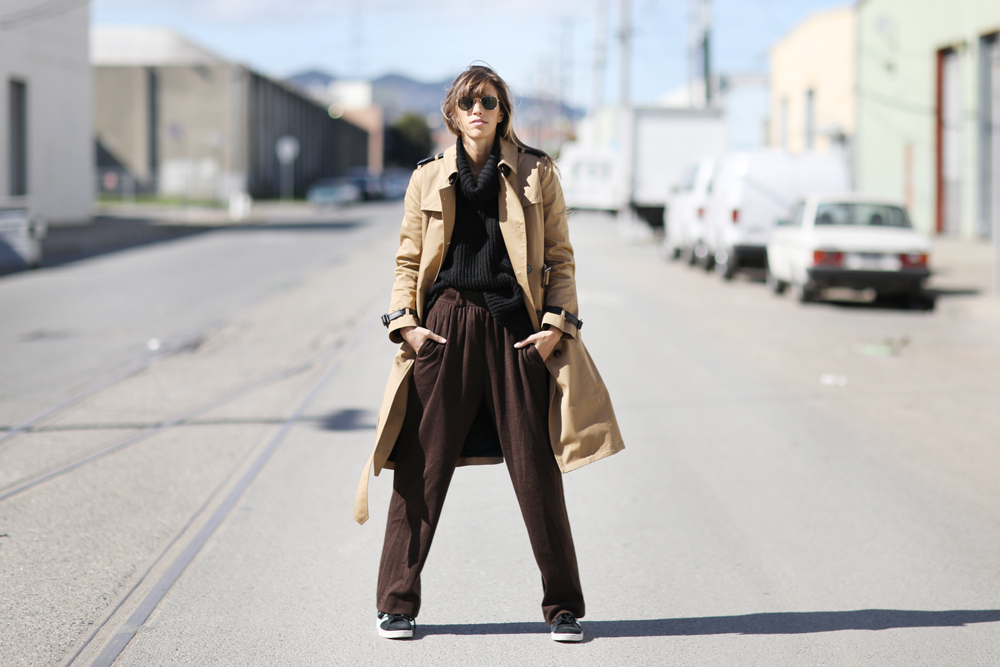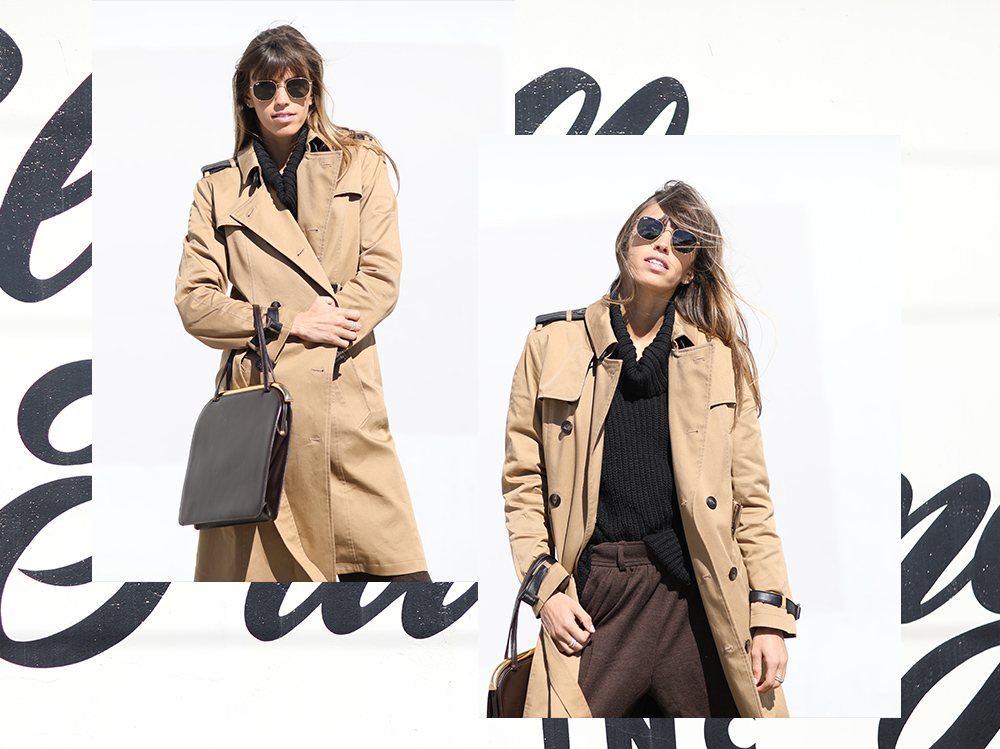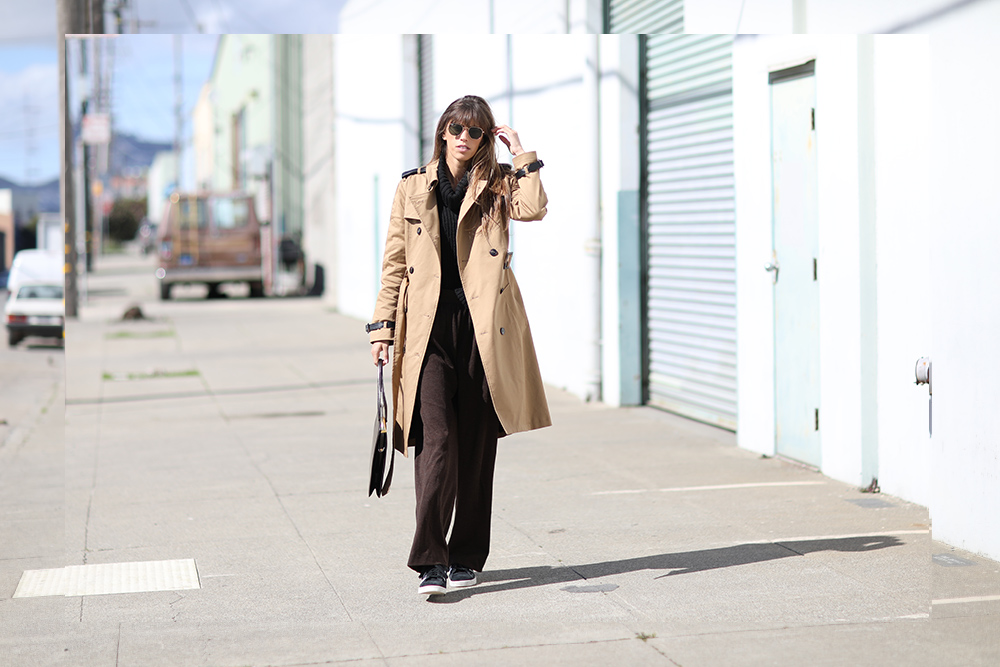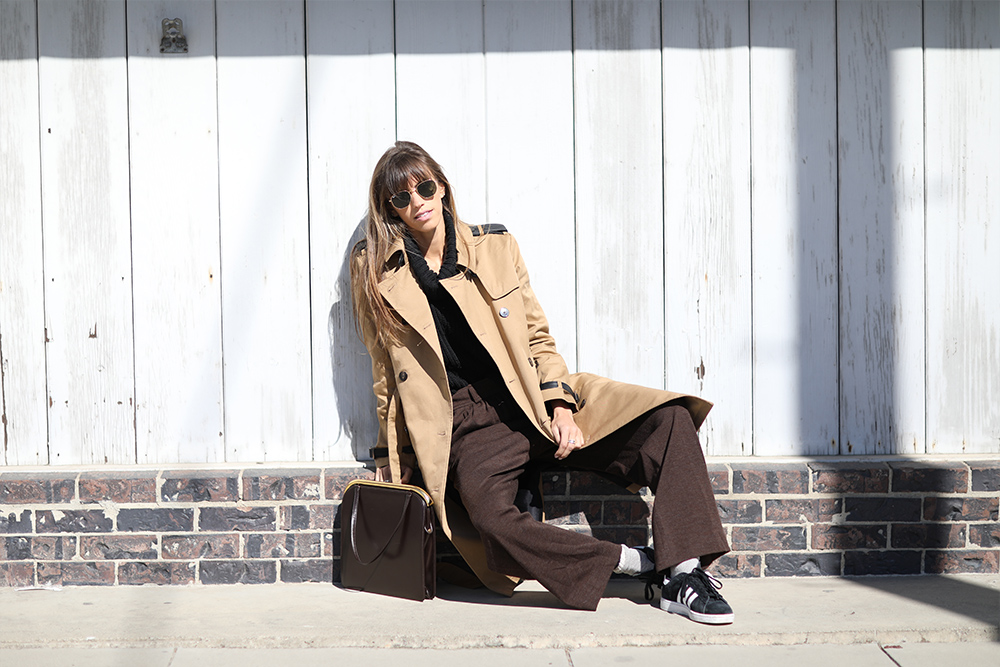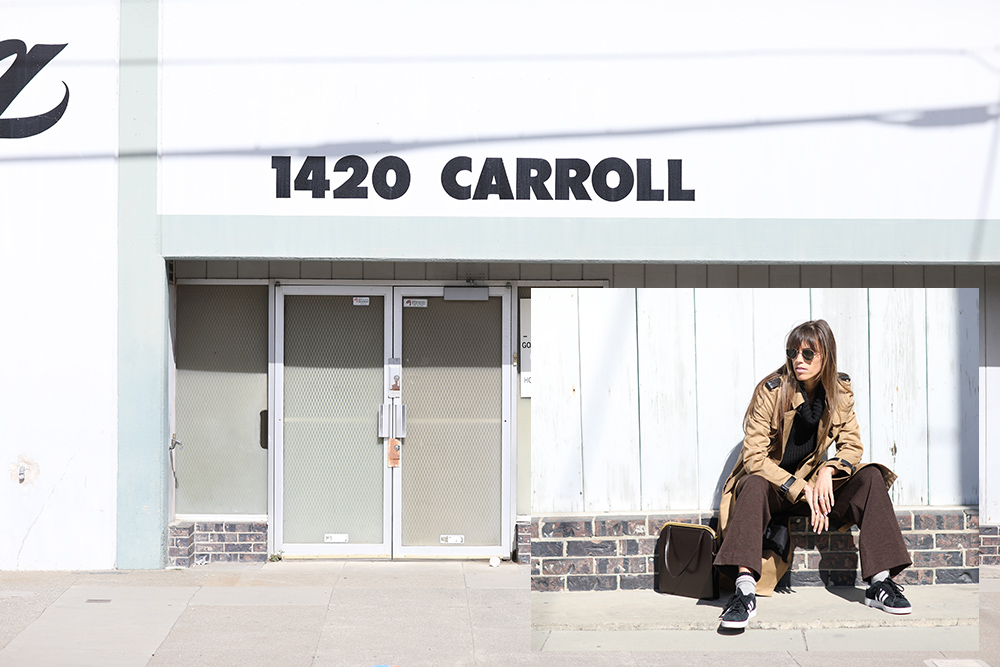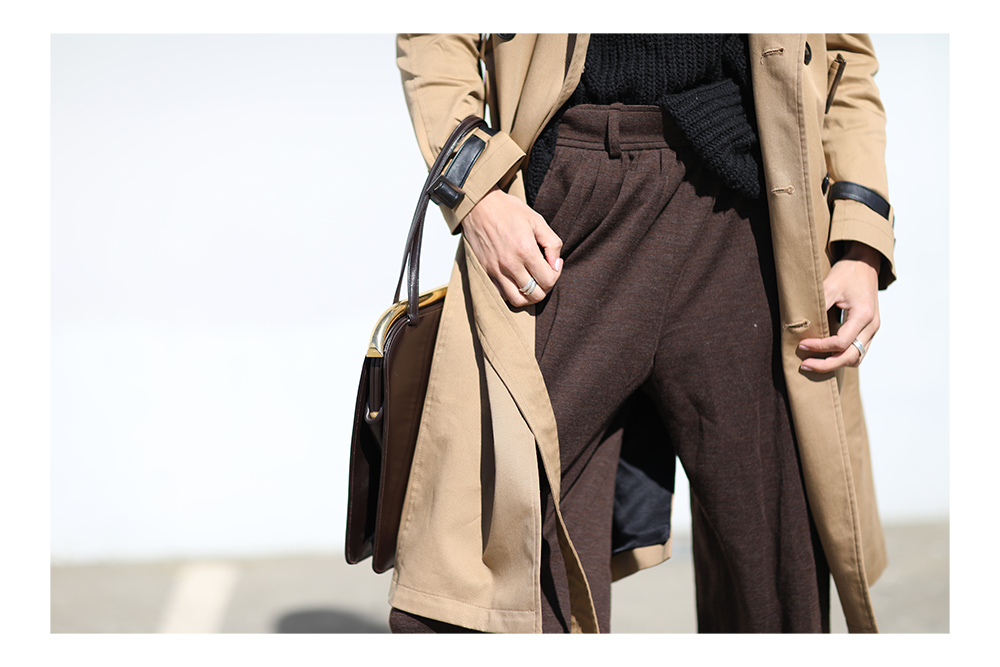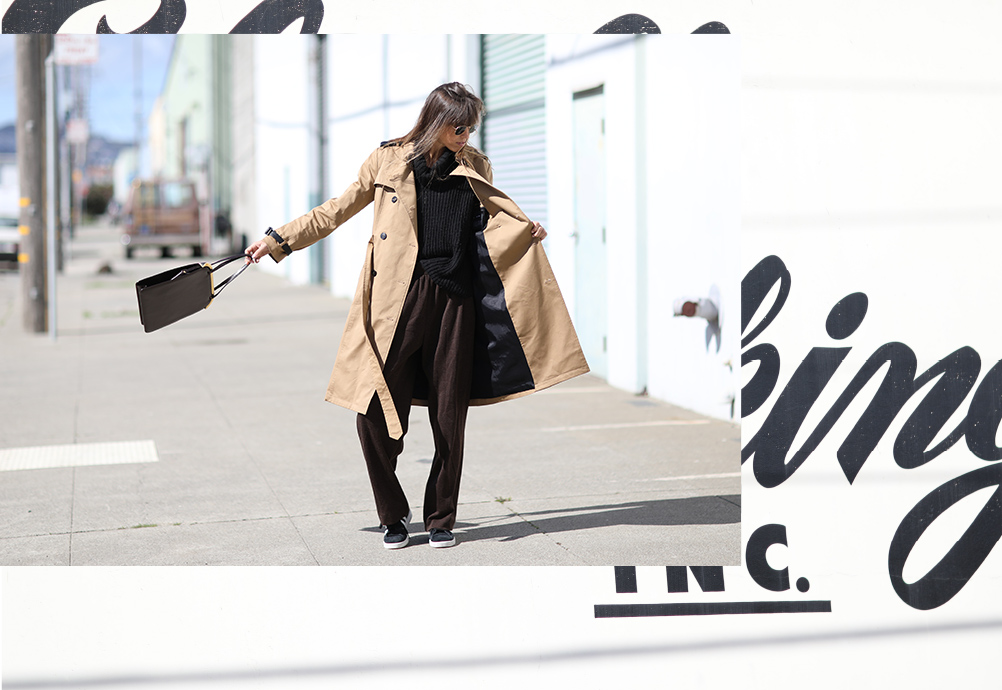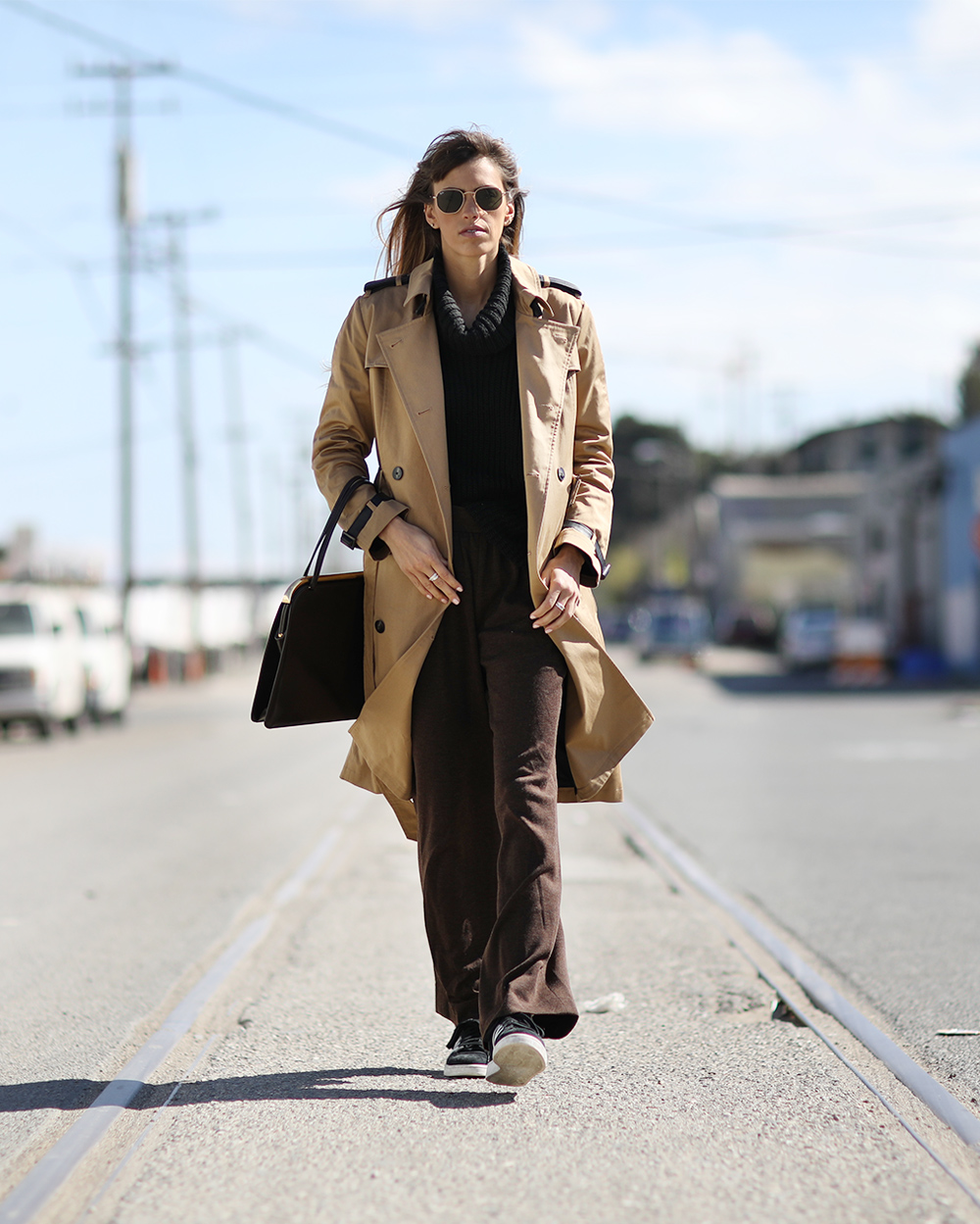 Pantones of the Post

Get the look:

---
Wearing // Shoes: Adidas / Pants: Vintage YSL from Eden & Eden (similar: here, here, here) / Sweater: Urban Outfitters (similar) / Coat: The Kooples (similar: here, here) / Sunglasses: Ray Ban / Purse: Vintage Saks Fifth Avenue via Helpers House of Couture (similar: here, here) //
Colors (left to right) // Pantone 2707C / Pantone Black 6C / Pantone 427C (50%) / Pantone 481C / Pantone 7568C //