Pantones of the Post

Disclaimer: I am not a music writer nor do I review bands so don't expect transcendence, expect plain english haha.
On Saturday I went to see Rufus Du Sol at the Mezzanine. Saw them last year but had to come back for second helpings cause they are just so damn great!!! 😍
It's nothing but happiness that night in the Mezz – completely packed I might add (so I guess a few more people have discovered them since last year haha) but you BET I squeezed my way closer to the stage. I mean, being in the back is just unacceptable! It was so worth it, they are SUCH a blassssttttttt.
I love Rufus because they have that electronic, tropical house but deeper, easy going, listen anytime anywhere vibe. I haven't found a situation when I don't want to listen to them jam. They constantly put me at ease. My favorite part about their performance is that they are actually LIVE. Yes there is a drummer and singer (not just singer over computer generated beat), which from listening to their music you may  not expect them to whip out at such a live show. 👏👏👏
Beers were flowing, I was jumping, A LOT… So much my shirt buttons kept coming undone! LOL 🍻😳  But best of all had a fat smile on the entire time because I was listening to the most joyous music with some of my best friends, and that is the mark of a GREAT night…Well, that and curly fries on the backend. 😜 The encore was def the highlight – brought the best ones and threw it DOWN. Wooooooo!
Rather than putting some loud, fuzzy video clip of peoples hands bouncing in the air I decided to link to a playlist full of their songs so you get the idea

Enjoy! DANCE!!! 👯👯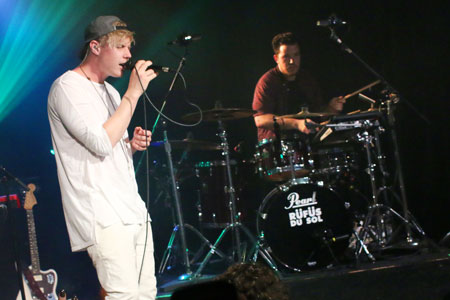 ---
Colors (left to right) // Pantone 1795C / Pantone 2728C / Pantone 2757C / Pantone 2665C / Pantone 3395C //