Losing luggage abroad is one of my worst nightmares! I can't actually remember the last time my luggage was lost…until a couple weeks ago on my trip to Greece.😡  You guys mussst have some terrible stories, so figured I had to share my tricks for surviving should this unfortunate event happen to you. 🆘😬
Sometimes you gotta play the hand you were dealt…and I was dealt no clothes. Just my plane outfit, a generic one-size fits-all white tee from Air France's "care package" and a carry-on full of shoes and sunglasses (seemingly not helpful AT ALL, but ironically very helpful…I'll explain👇😋).
Before I break it down into 4 simple things you need to survive, let me hammer in my main take away: always, ALWAYS pack a change of outfit in your carry-on 🙏💯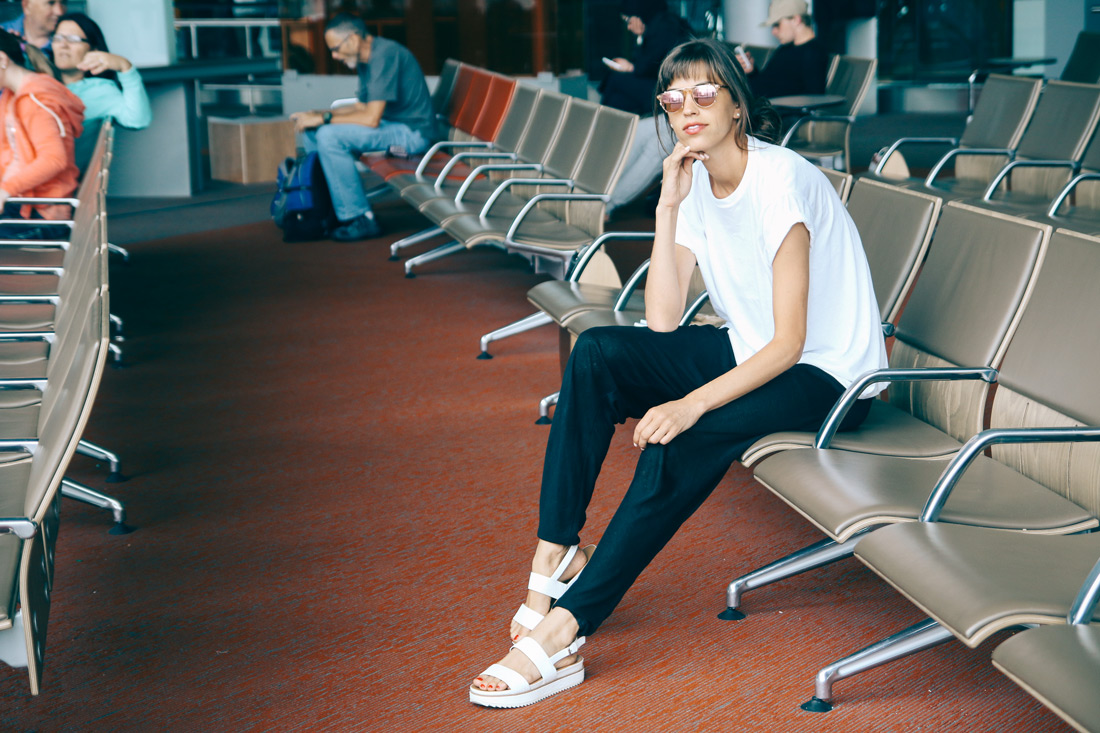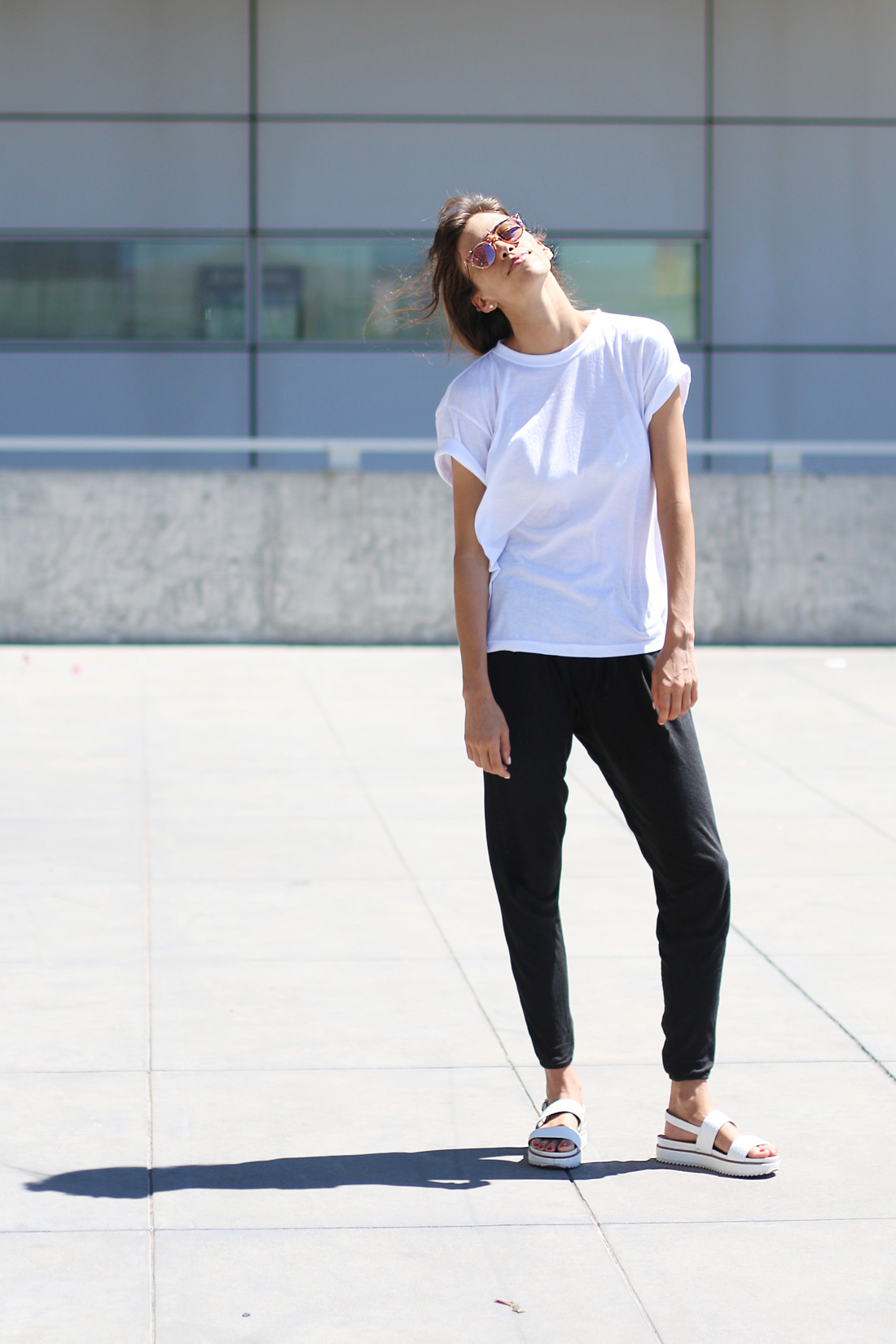 So you're stuck with nothing besides your plane outfit?!
Lesson #1: Choose your plane outfit wisely. Really, I advise not to wear sweats to the airport EVER… but on those really long cross country/continent flights weellllll, I have my weaknesses too. 😝😜 Therefore, it's extremely important to have a solid pair of joggers. Ones that you can sleep in on the plane, but also channel some series OakNYC vibes (like I did for 🔝😆) to make an edgy "on purpose" statement when out & about town. 🆒👌 The secret? Opt for a thinner, more refined hem. The thicker the ankle cuffs, the more like sweats.
My picks for plane 🔜 city friendly joggers: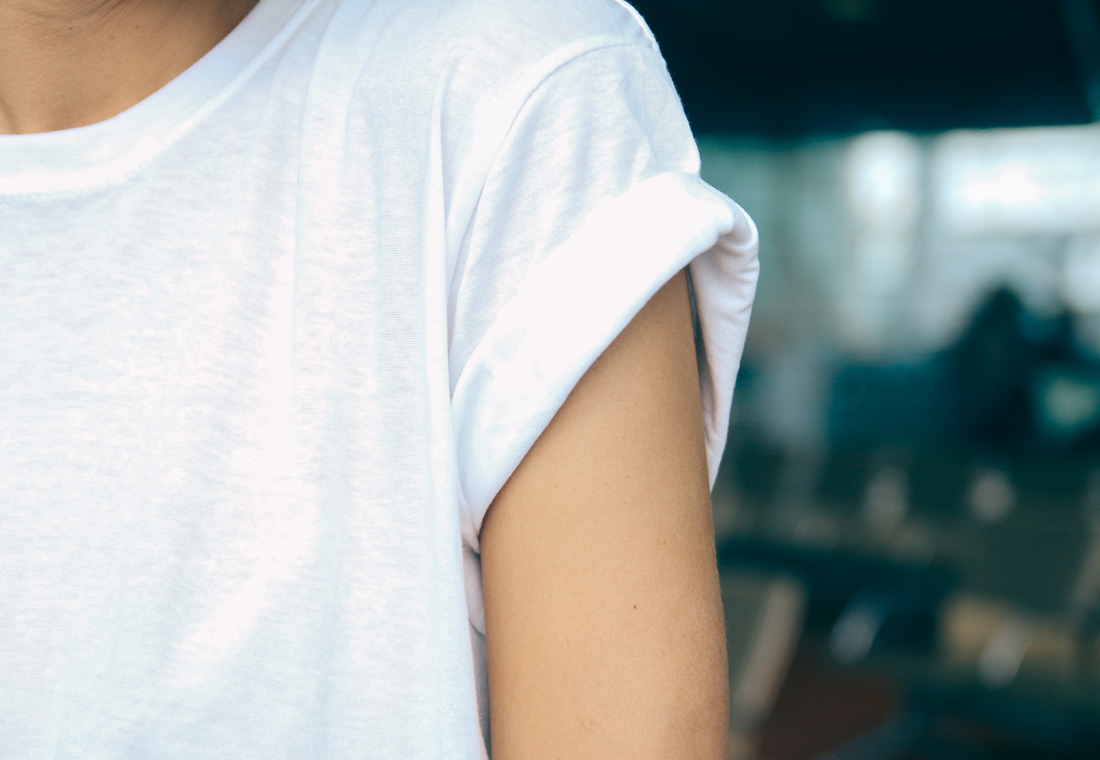 So you're stuck with some one size fits all, gross airport tee?!
Lesson #2: Cuffing an oversized shirt does wonders
Airline shirt =  mens and too big… obvi 😑😑  Roll the sleeves 3 times instantly makes the shirt feel more tailored an refined, problem solved! I actually love oversized white tees –  always comfy yet exudes that minimal cool vibe, like you tried but not too hard. If your shorter, and don't jive with this then just tuck in the shirt, woo!
Regardless of my pathetic donated tee, it made me reallyyyy appreciate what a solid white tee brings to the table, because regardless of what I have or will buy to survive that white tee will SAVE the day by blending with all – my new carry-on must.
Shop my favorite white tees, to style with ANY outfit, anywhere, anytime: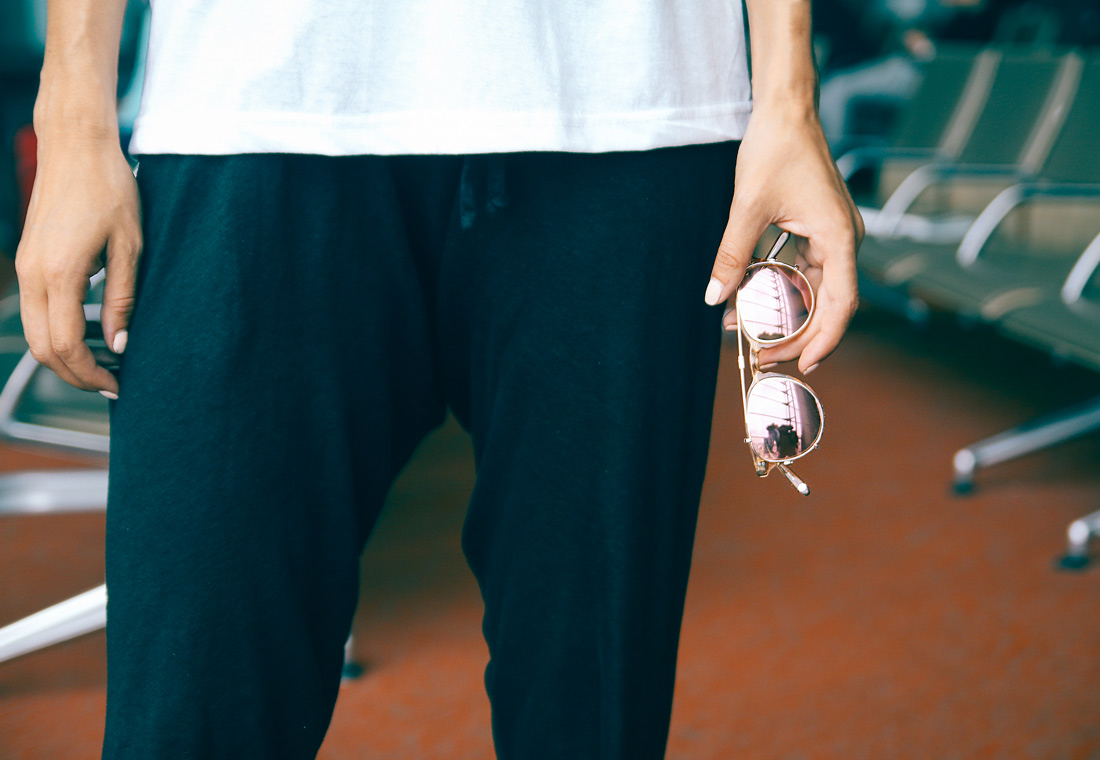 So your outfit is plain, too casual, you packed your jewelry and have no accessories?!
Lesson #3: A killer pair of statement shades will get you SO far
I was so thankful to have my favorites with me because not only are they actuallyyyy a functional accessory but a flashy pair will do soooo much for you. Big, bold & beautiful sunglasses will: draw attention (even off your sub-par outfit 😉), make people ooo and ahhh and stare in mystery, be your perfect "final touch." ✨😎✨
Shop my picks for big bold and beautiful "statement" sunglasses: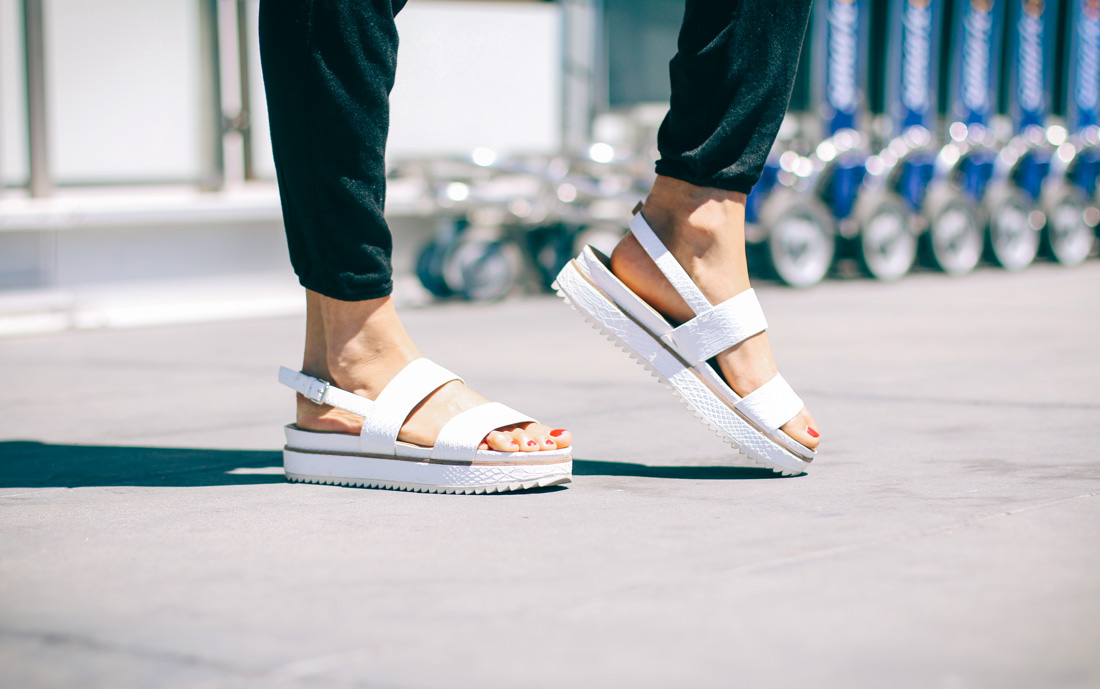 So you're stuck with one pair of shoes?!
Lesson #4: Platform sandals will solve all your problems
As pissed as I was to only have shoes in my carry-on, they actually became QUITE valuable since shoes really dictate the vibe of your outfit. These platform sandals were a great pair to have because they are super versatile. Casual and easy for beach days, super comfortable for walking around town andddd with that platform, 👌 the height and edgy factor gave my look some UMPH 💥 when we went out that night. 💃
Shop my favorite platform sandals to elevate any look:

And there you have it, how to survive losing luggage abroad. ✈️❗✈️…..Though a valuable lesson learned, please "Airline" DON'T LOSE IT EVER AGAIN… (👇 not having it) 😜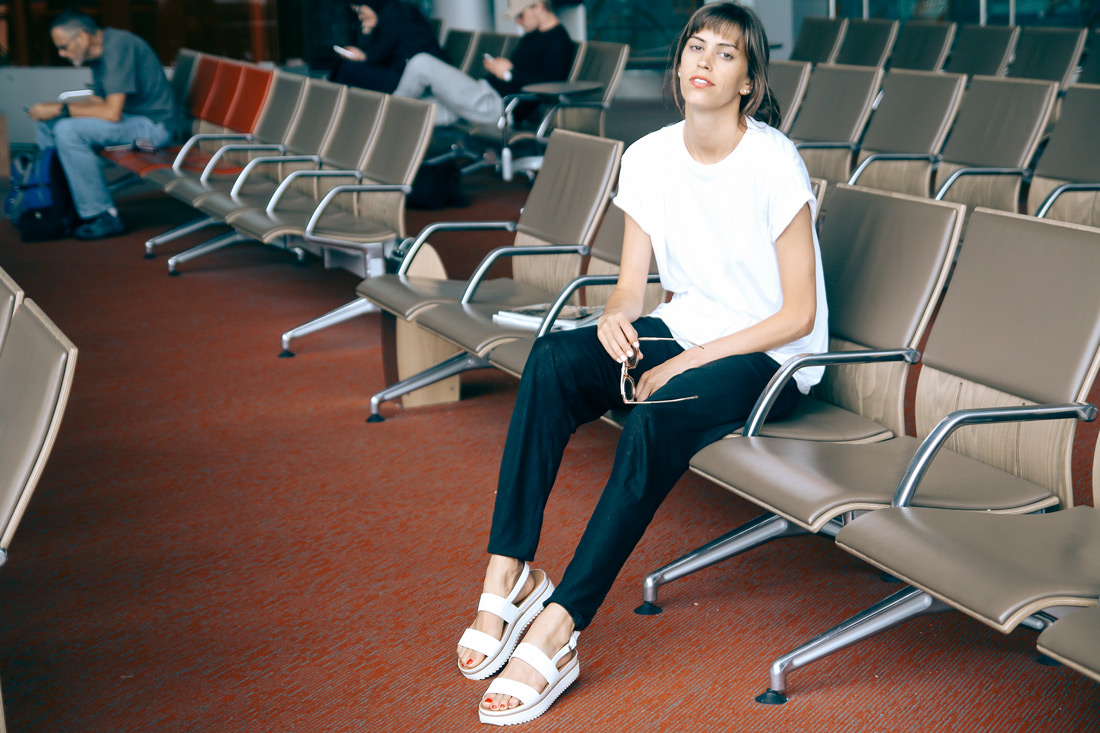 Pantones of the Post

Shop the post:
---
Wearing // Sandals: Zara (similar: here, here, here)  / Pants: Claudio Linen (similar) / Shirt: Air France (similar: here, here) / Sunglasses: Garret Leight //
Colors (left to right) // Pantone 657U / Pantone 548C / Pantone 403C / Pantone 475C / Pantone 4705C  //