A couple weeks ago I got the opportunity to do a shoot with our local Urban Outfitters and it was the BOMBBB.com. 💣💯 Not only did I find my new festive holiday look (shop it below) but I also learned some sweet new camera techniques and styling tips I want to share with you all! 👍🏼
First being that you gotta buy a fishermans cap, stat! 👏🏼👏🏼👏🏼 Tbh, I was always a bit scared to take the plunge and buy one. Idk why! 🤷🏼‍♀️ I know I constantly advocate for being ballsy and confident, but even I need to push myself out of my comfort zone sometimes. 🙈🙊 Ever since this UO shoot, I've worn this Brixton hat at least 3 days a week! 😛 It's my new favorite accessory and the perfect add-on when I want a little edge or sass to my OOTD. So glad I took the plunge, and you should too!
Same goes for these pleat culotte pants. ❤️🌹❤️. Essentially like wearing pajamas in public, except ones that everyone just loves to compliment! Idk what it is about these pants but I'm constantly getting jealous eyes when wearing them, #sorrynotsorry. 😂👍🏼 Throw on an oversized sweater and be oh so cozy chic, pair a sheer or shimmery top* with them and instantly I'm ready to go out for some holiday cocktails! It's AMAZE. 🙌🏼✨
*Note to self: get more bra tops. They aren't useless and a waste of money. They are actually quite useful for layering and taking my look to a new level of 'styled'. 
Overall just obsessed with this look right now. It's every part comfy, chic, holiday, edgy, soft, festive, and fabulous that I want in my life. 😍✨❤️ LOL. See a girl CAN have it all! 😜😉 I'll be opting out of the sparkly dress and wearing this to my next holiday function – who's with me?! 🙋🏼‍♀️
Shop my look:
[show_shopthepost_widget id="2939295″]
👉 Scroll to the end of this post if you want to learn about the fun lens effects you see in this series!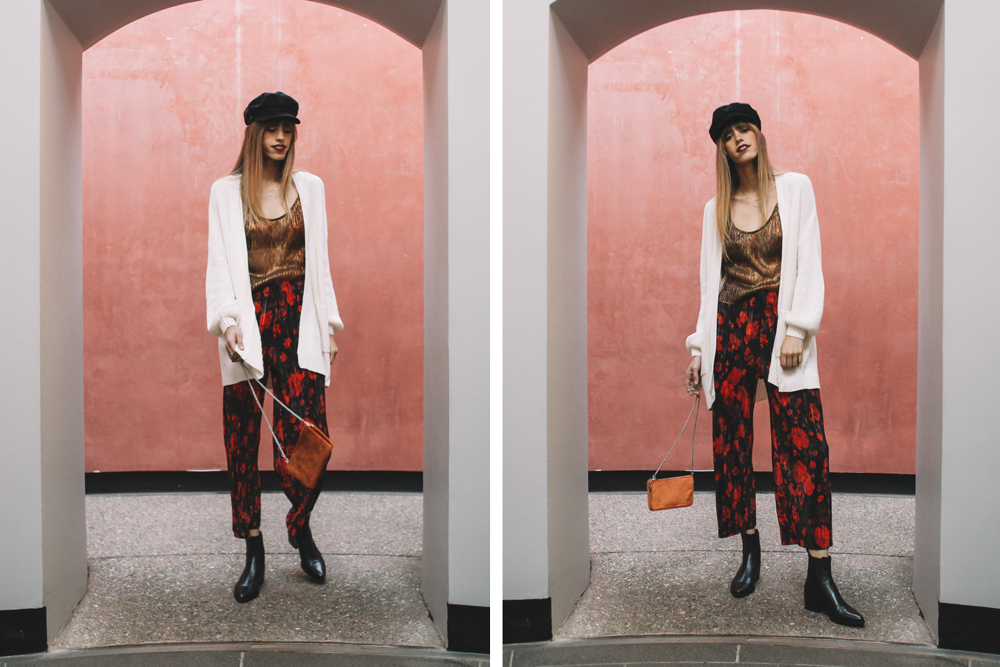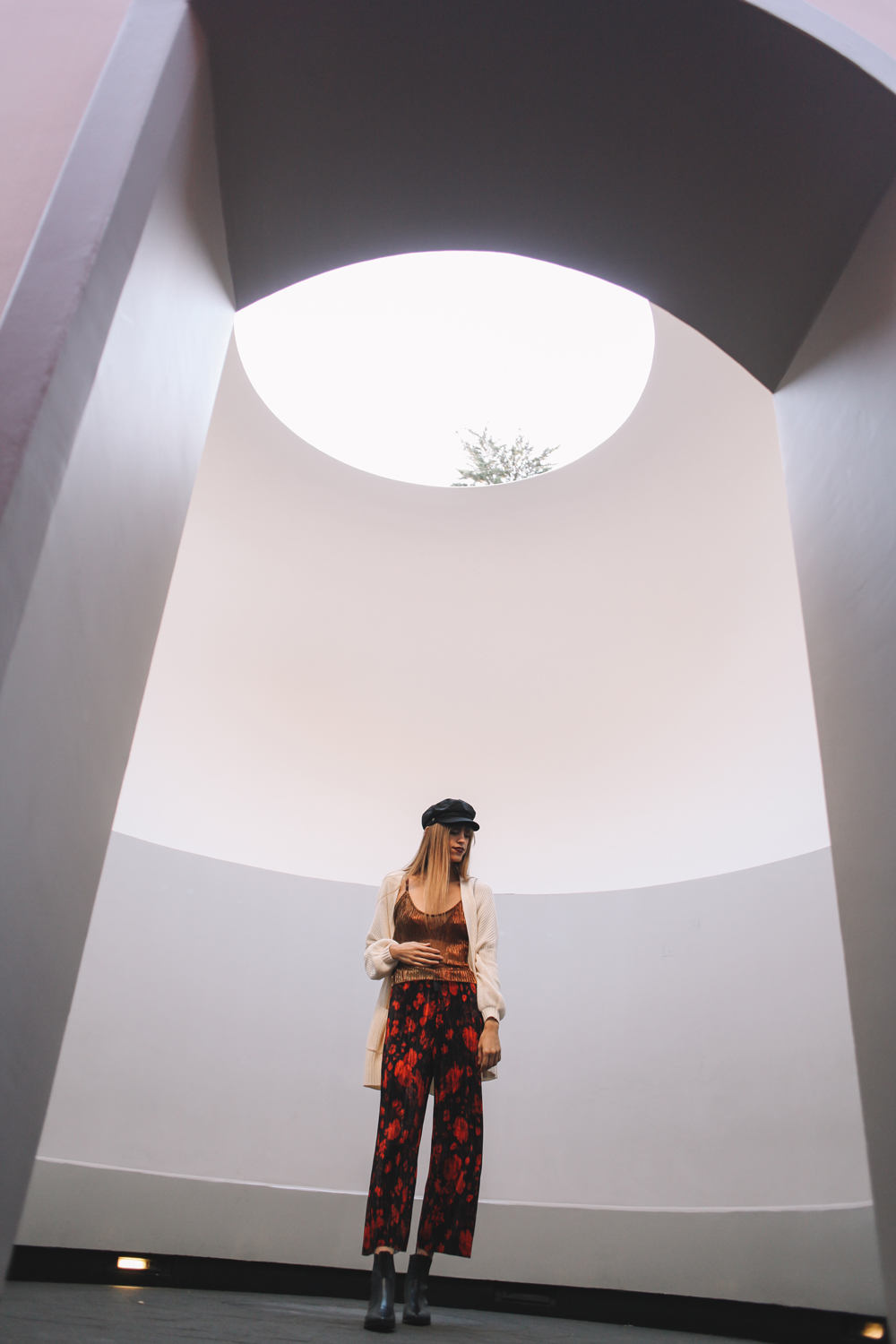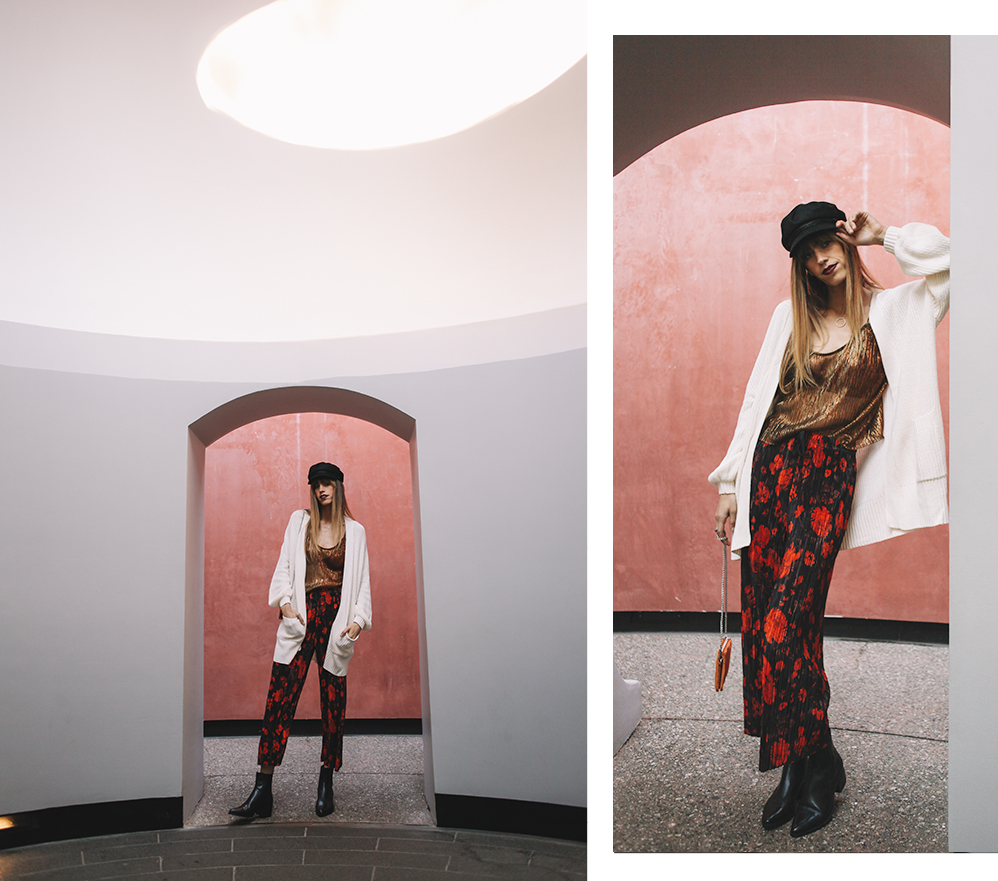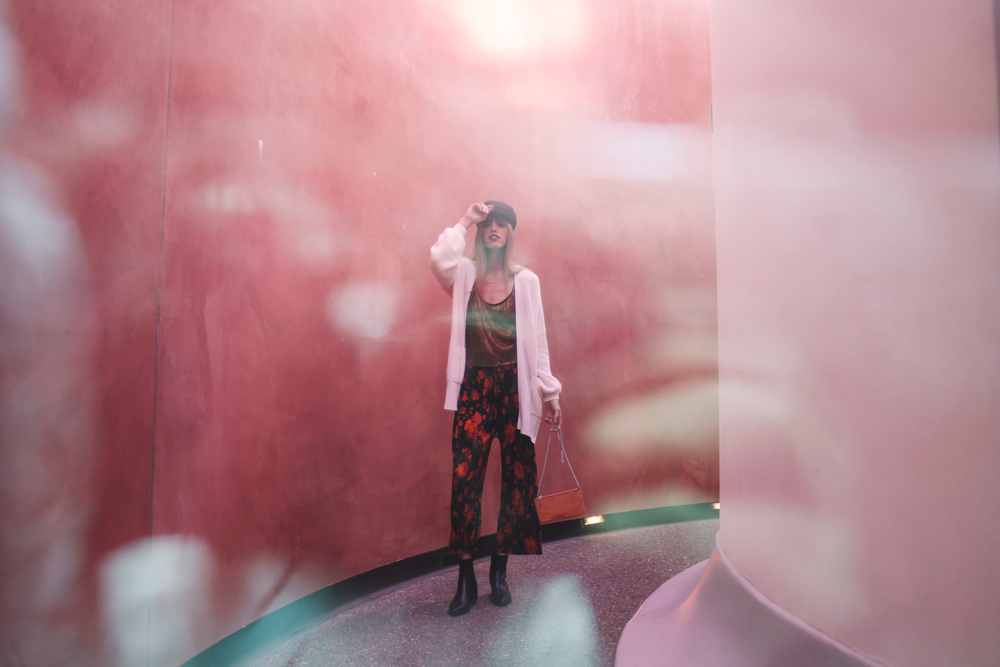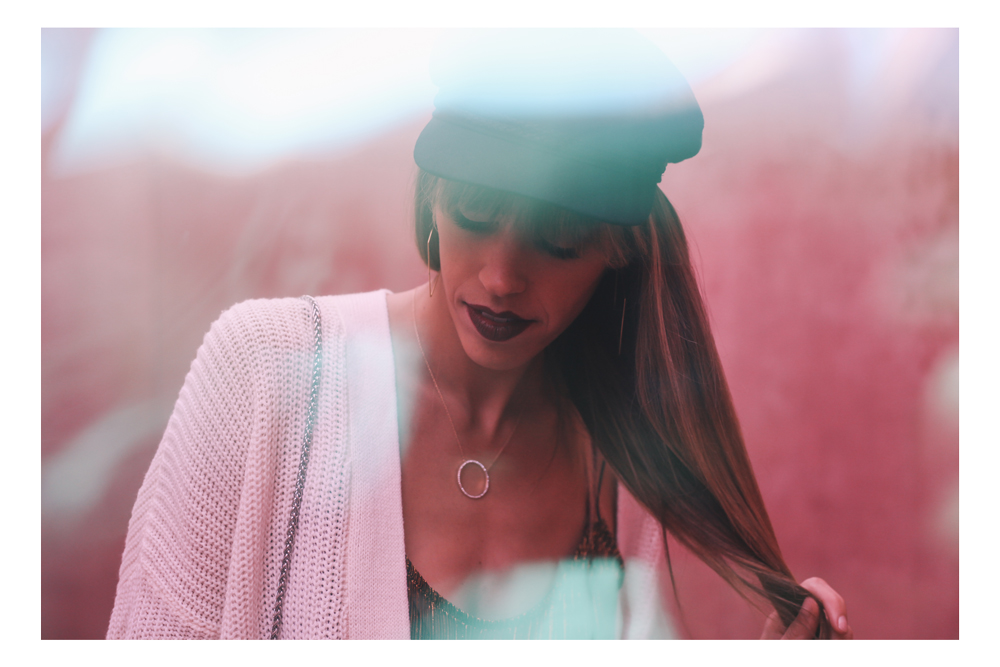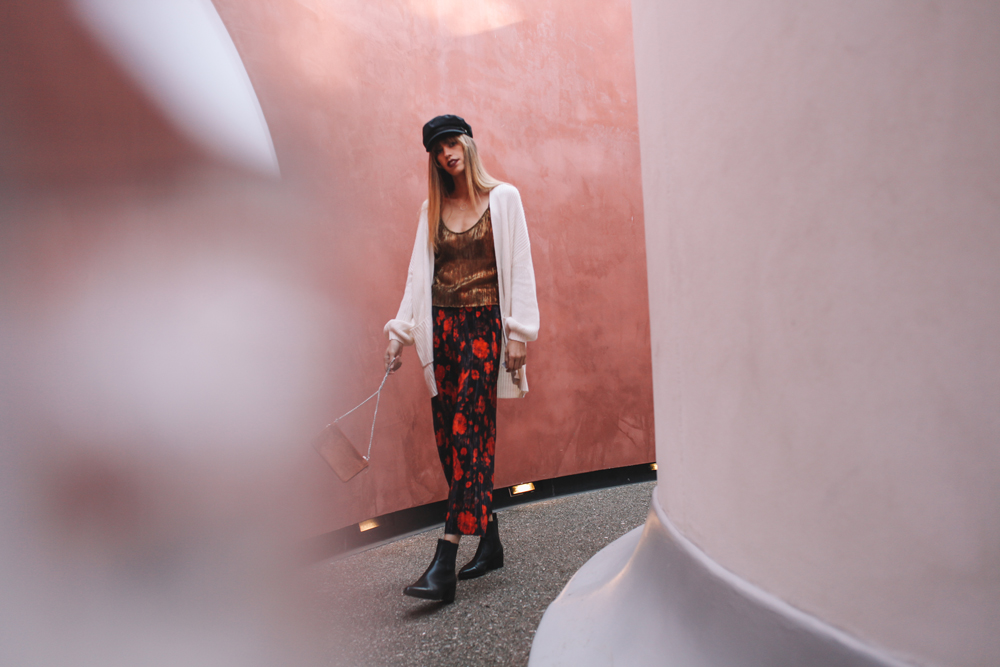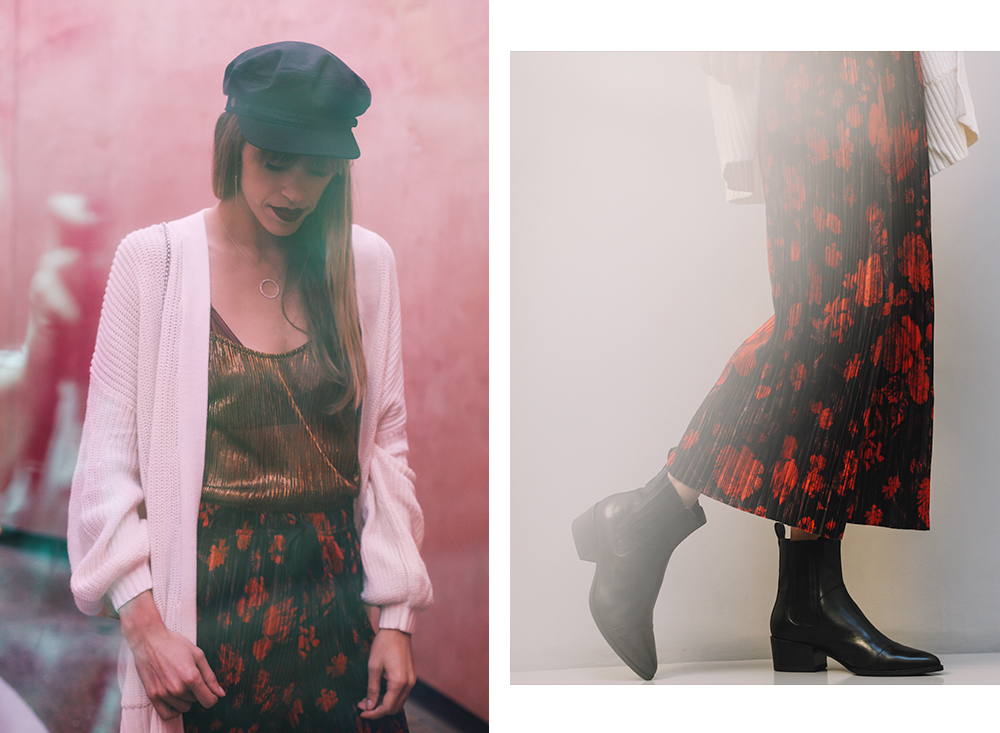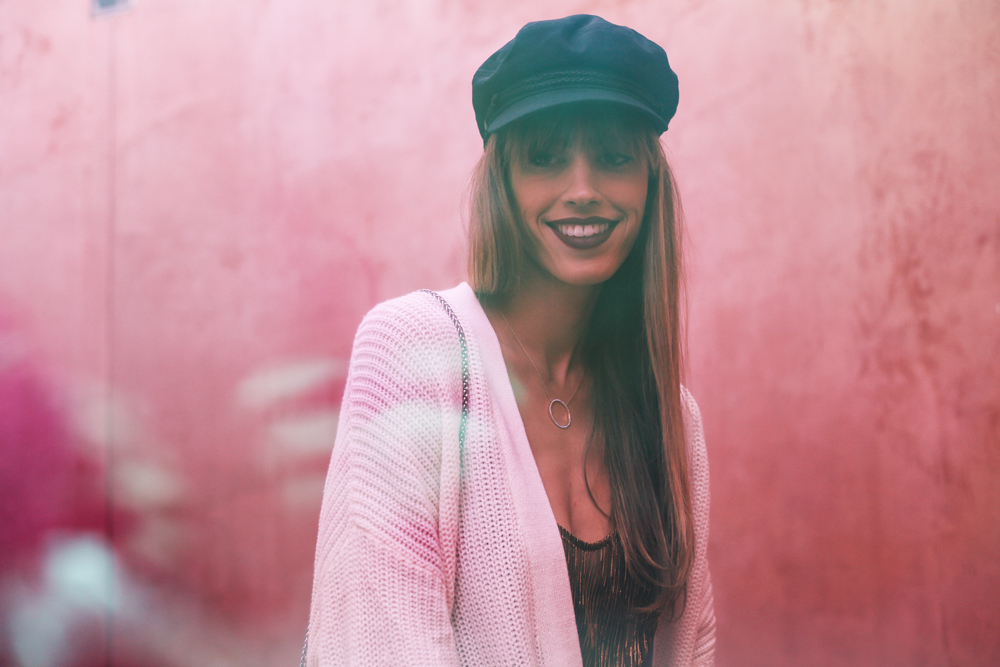 Pantones of the Post

Like the light flares and color effects on these photos? We shot with a couple fun props that made it happen! The colored flares you see in the second half of this post were made by placing a piece of iridescent, kind of rainbow colored, transparent cellophane over the lens while shooting. And the hazy fog that appears in the corner of some shots was made by holding a crystal (literally a white crystal rock) over the edge of the lens so it blurs the end of the frame. You have to move it around while shooting to get the right angle, but playing around is all the fun! You never know what you're going to get! Literally SO easy and SO fun. I plan to keep up experimenting with these and hope you do too!
Shop my look:
[show_shopthepost_widget id="2939295″]
---
Wearing // Boots: Urban Outfitters / Pants: Urban Outfitters / Top: Urban Outfitters / Sweater: Urban Outfitters / Hat: Brixton / Purse: Urban Outfitters / Necklace: Urban Outfitters / Earrings: Urban Outfitters //
Colors (left to right) // Pantone Neutral Black C / Pantone 418C / Pantone 402C / Pantone 4985C / Pantone 504C //
Photography // Luke Flora //