My family and I just returned from a week on the Amalfi Coast of Southern Italy…. Probably the prettiest cities I've ever been to. The buildings, nestled in the mountain with intense cliff drops, provide for STUNNING views of the ocean, which seemed more endless than ever before. ☀️🌊⛱
We did 2 days in Sorrento and 2 days in Positano, with a long day trip out to the island of Capri. I would definitely do more days in Positano and less in Sorrento (My dad did not take my recommendation 🙄, but there's still hope for you)!
Read on for my Amalfi Coast travel guide!
SORRENTO
Sorrento is beautiful (probably will start each chapter like that ha), and much more of a "small city", comparative to the other towns. It was the perfect place to kick off our Amalfi trip, easing into the overwhelming greatness. Streets full of shops, restaurants, churches, a town square, and then a meandering walk down to the beach. Once your down there it almost feels like a whole new town.
We stayed in the most beautiful hotel too, literally jaw dropping upon entrance… 😍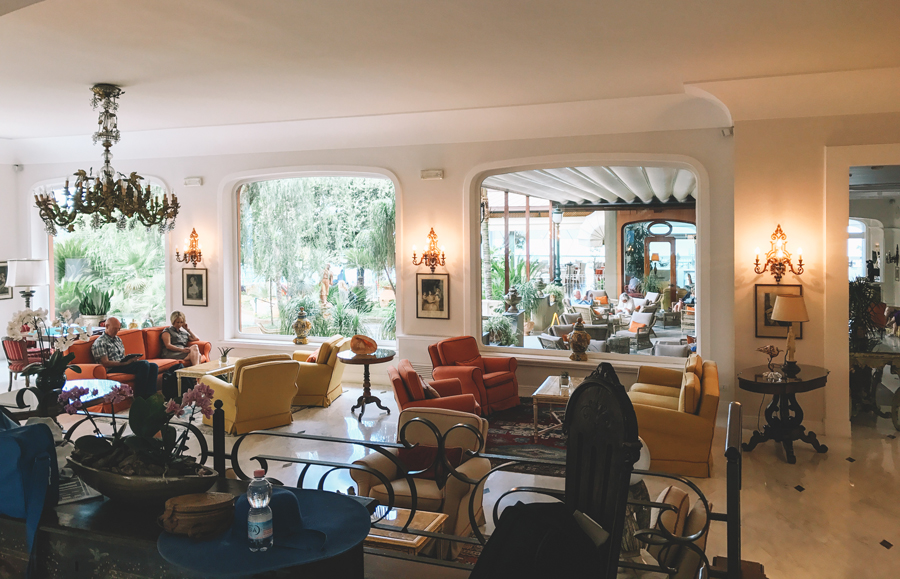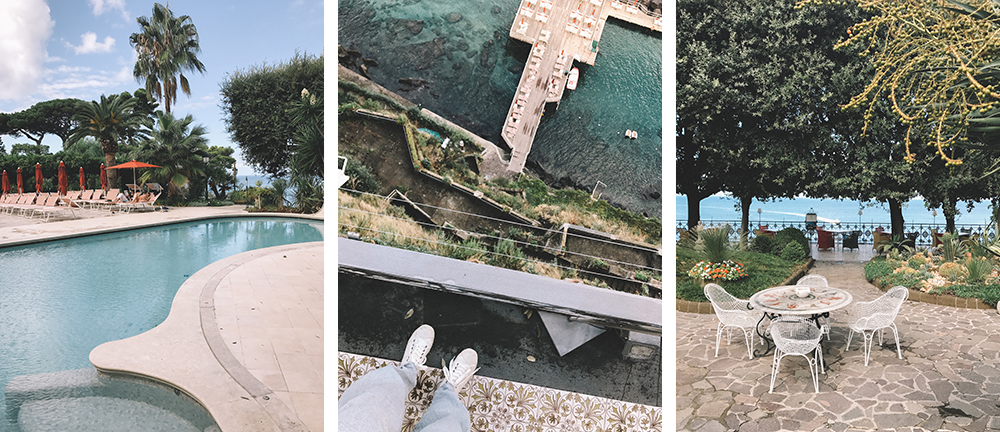 Stay
We stayed at the Grand Hotel Ambasciatori and my mind never even wondered where else we could've stayed, it was perfect in every way. The decor and rooms were so quaintly Italian and the outdoor courtyard, swimming pool area felt like a movie set. Not to mention the coolest elevator, shooting you down to their own private beach/dock and bar, where I can only imagine gets to be quite the scene mid-summer.
My favorite hotel moments? Their cappuccino was probably my fav of the trip, the little balcony out of our room where we could sip them, and the classy piano bar where I had a glass of prosecco before dinner. ✨🥂🎹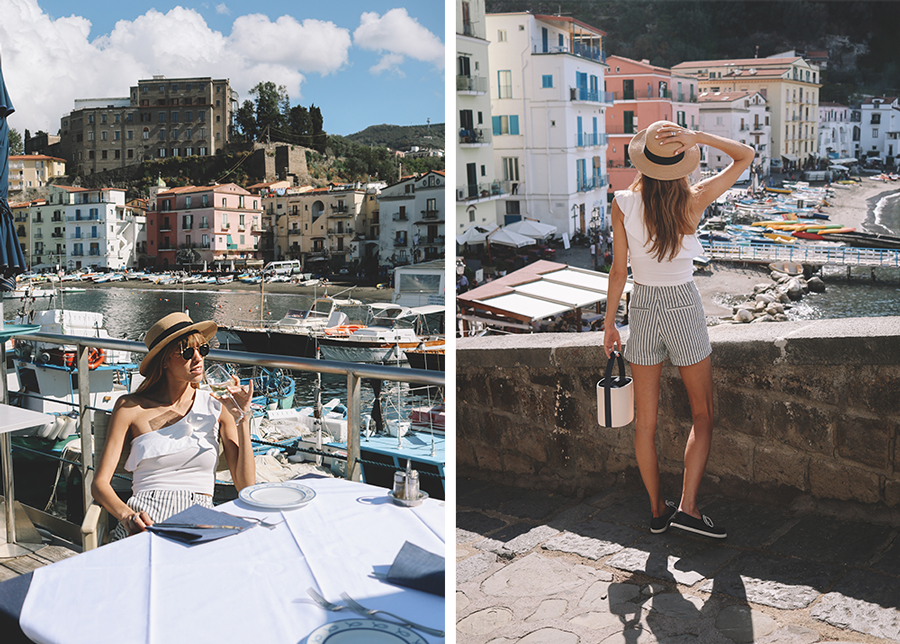 Eat
Lunch
Who doesn't like eating on the water?! Answer: NOBODY. Ristorante Bagni Delfino 👆 was absolute perfection for our first meal…sitting out on the dock, in the sun, eating fresh fish and guzzling wine. Plus you'll get a nice historic "tour" of  Sorrento on your walk over since it's on the outskirts of the city down by the water.☺️🌊🐟
Dinner
On our first night in Sorrento, the hotel recommended L'Antica Trattoria 👇 and boy oh boy did it set the bar for ALL future dinners. Honestly? Nothing never matched up, this was THE BEST meal I had all week!! 🙌 Getting served a glass of prosecco and an appetizer on the house immediately when you sit down, really shows good service. 5 min in, I'm already satisfied. But what was even better? The owner, Tony. He was full of life and played with us all night, cracking jokes, making weird Italian stiff AF cocktails and laughing at us as we tried them. Honestly the photo below says it all… guess who's Tony?? 😛😂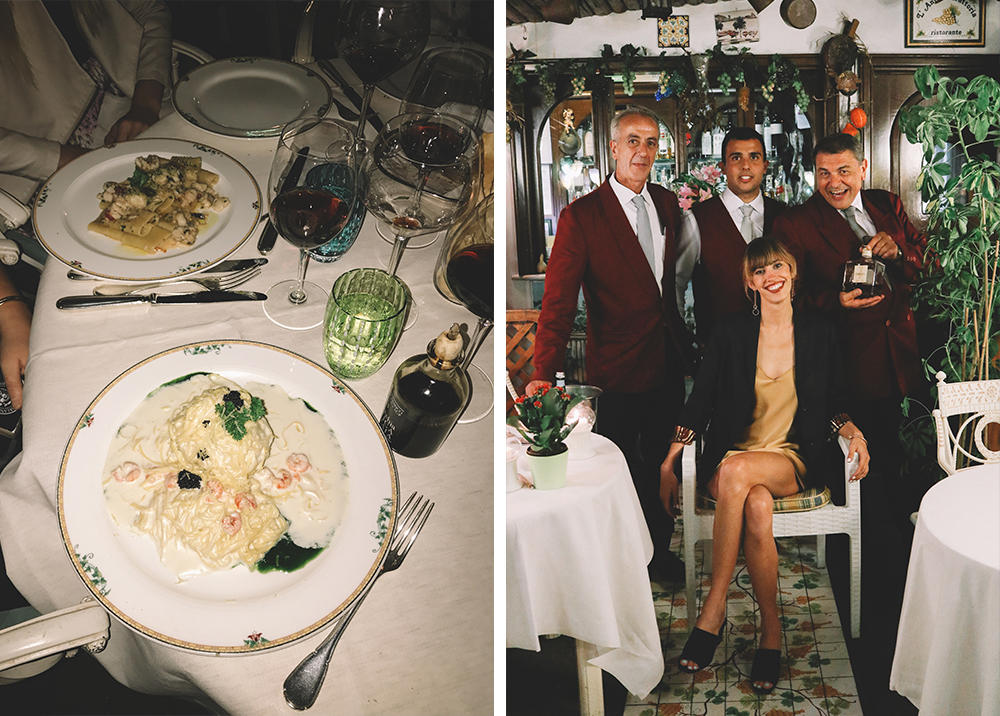 POSITANO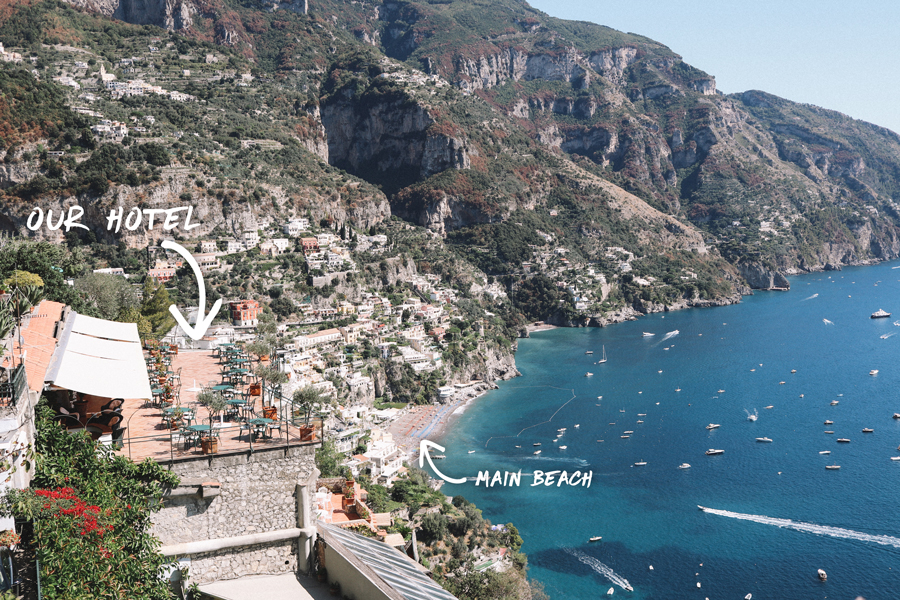 Nothing like stepping out of the bus to this view right here, AND realizing that your hotel balcony is looking over alllll of Positano. I was floored as tears streamed down my face, taking in all the beauty and remembering my magical memories of studying abroad and taking a day trip here. It was v emotional. 😌  But when you go, you will be too. Talk about breathtakingly beautiful, that term has never been so literal.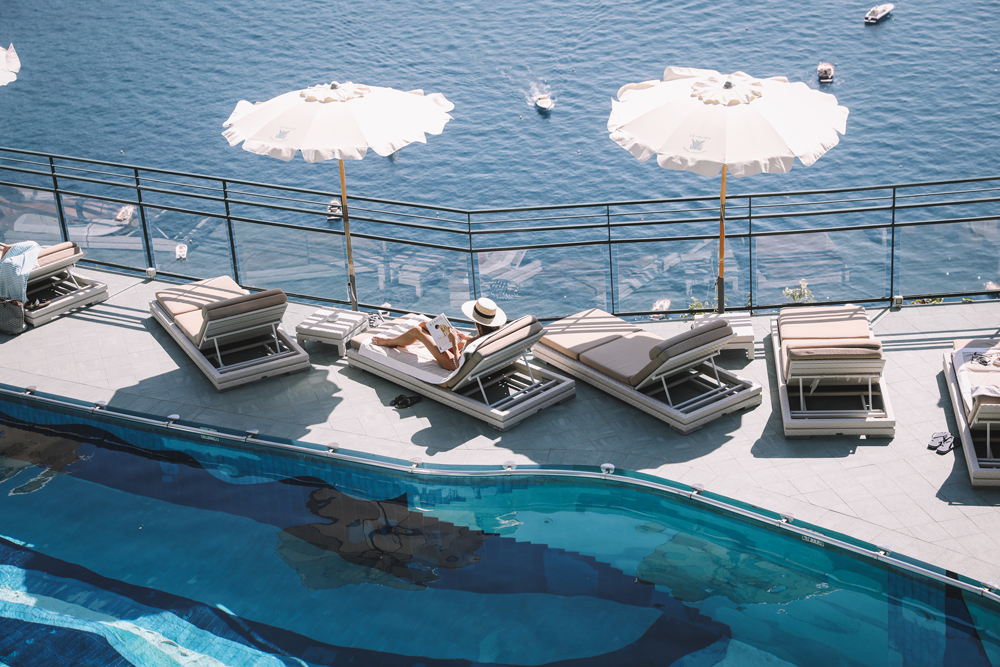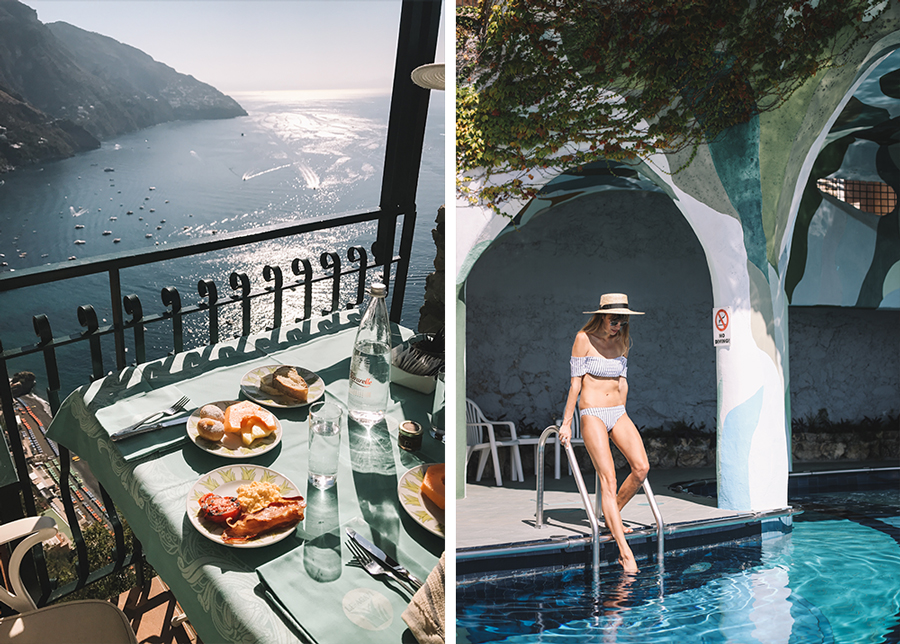 Stay
Hotel Le Agavi seemed like the place to be! Picturesque views of the entire Med and Positano, gorgeous blue and white tiled rooms with private balconies, an enchanting pool, amazing service, the only funicular of any hotel (which made the 182743 step journey down to the beach tolerable) andddd a private boat taxi directly from their dock into Positano. ✔️✔️✔️
I'm sure staying at a tiny hotel in the town of Positano would be nice too, but I will say the fact that we had our own swimming area, lounge chairs, pool etc – the whole "sunning shebang", made this my top pick for hotel stays. Water taxi into town was always available and only about 5 minutes ride. Plus I don't think there is anything more beautiful than approaching Positano from the water, day or night, it's right out of a movie. UN-believable. 🙌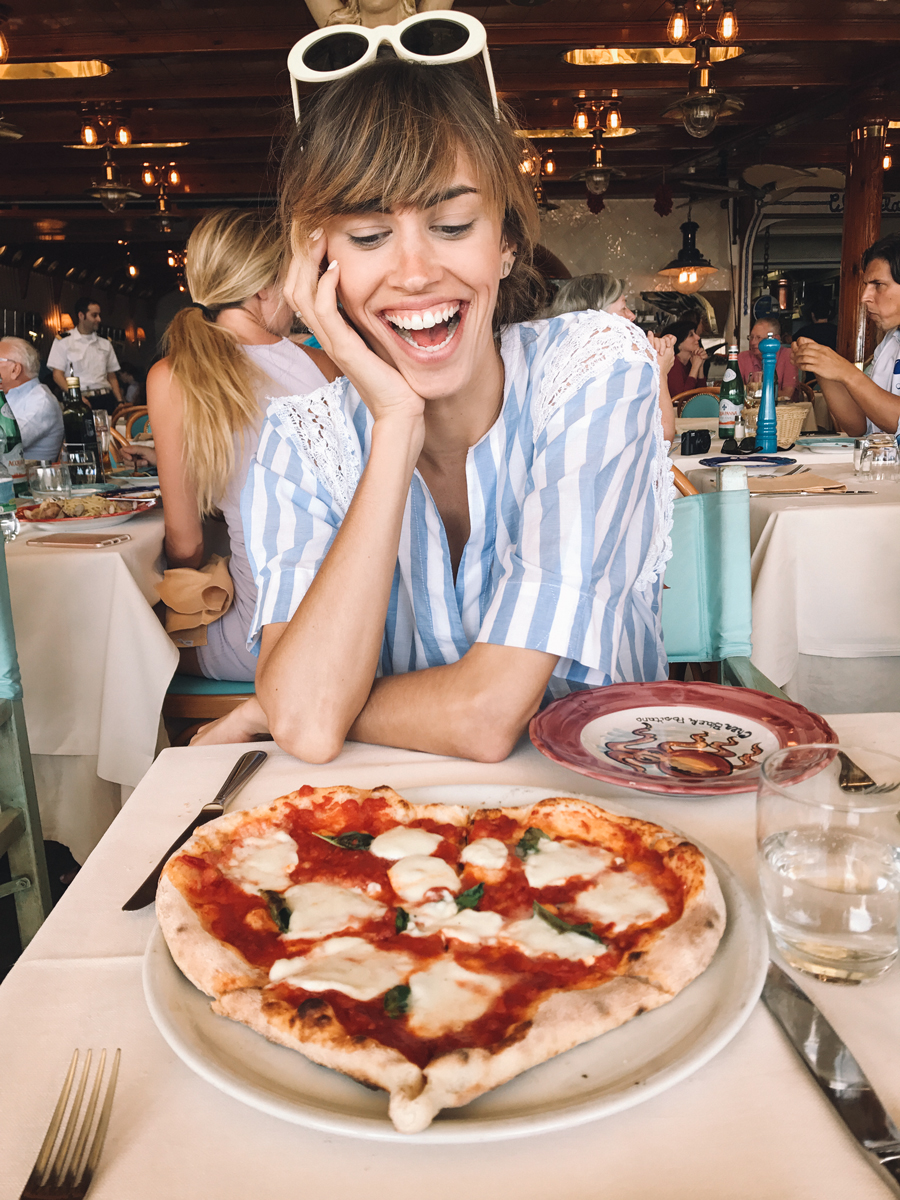 Eat
You really can't go wrong with any restaurant along the beach, but we happened to stop at Chez Black cause Katie was in search of a final pizza and mannnnnn did we make the right move. It was my favorite pizza of the trip! And if you get along with Pepe, the waiter, as well as we did, he'll give you a free LARGE glass of dry white wine and make your pizza into a heart! ❤️🍕 I love Italy.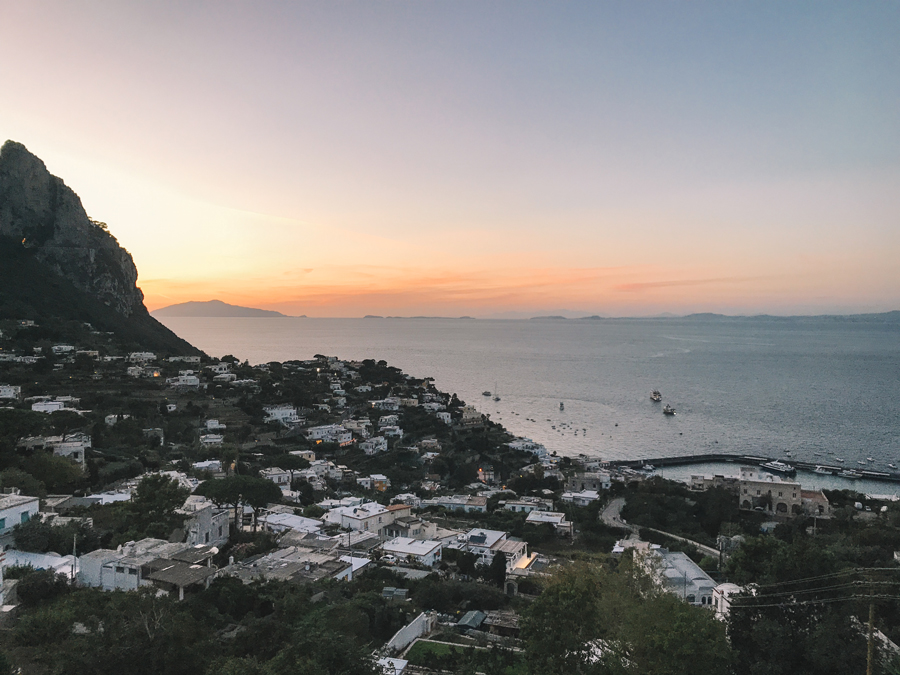 Capri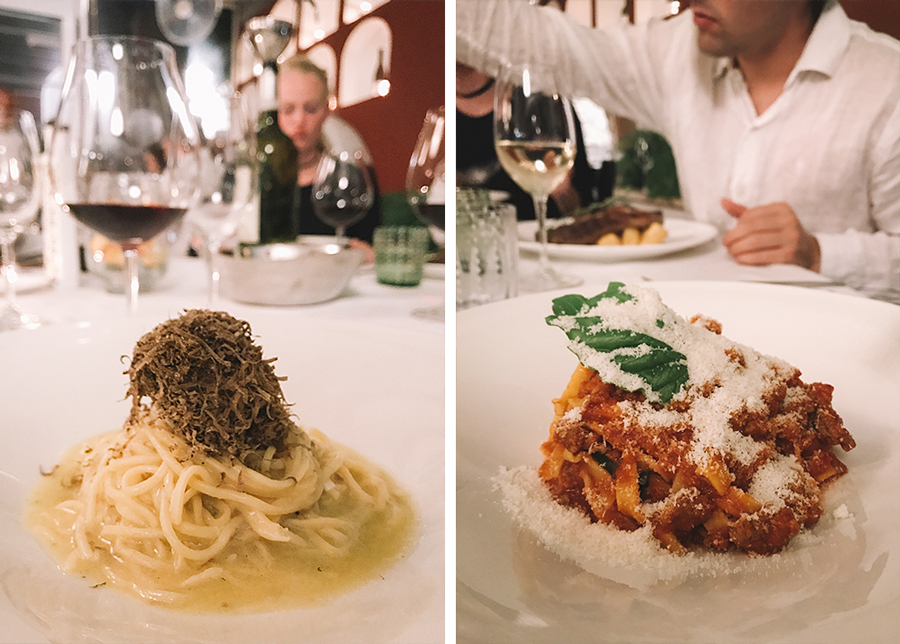 Eat
Villa Verde -👆😋🍝 recommended by basically everyone on the island, and clearly for good reason. Our 4 foot tall decanter (and magnum Borolo🍷) was enough to seal the deal for me. It was quite lively inside and the pasta was seasonal and cooked to Italian perfection!
Also, not to be missed Buonocore Gelateria. 👇😋🍨 We stumbled upon this place due to the smell of fresh waffle cones wafting down the ally from Capri's main piazza, followed by a substantial line (don't worry it moves pretty fast – no sampling allowed 😬)!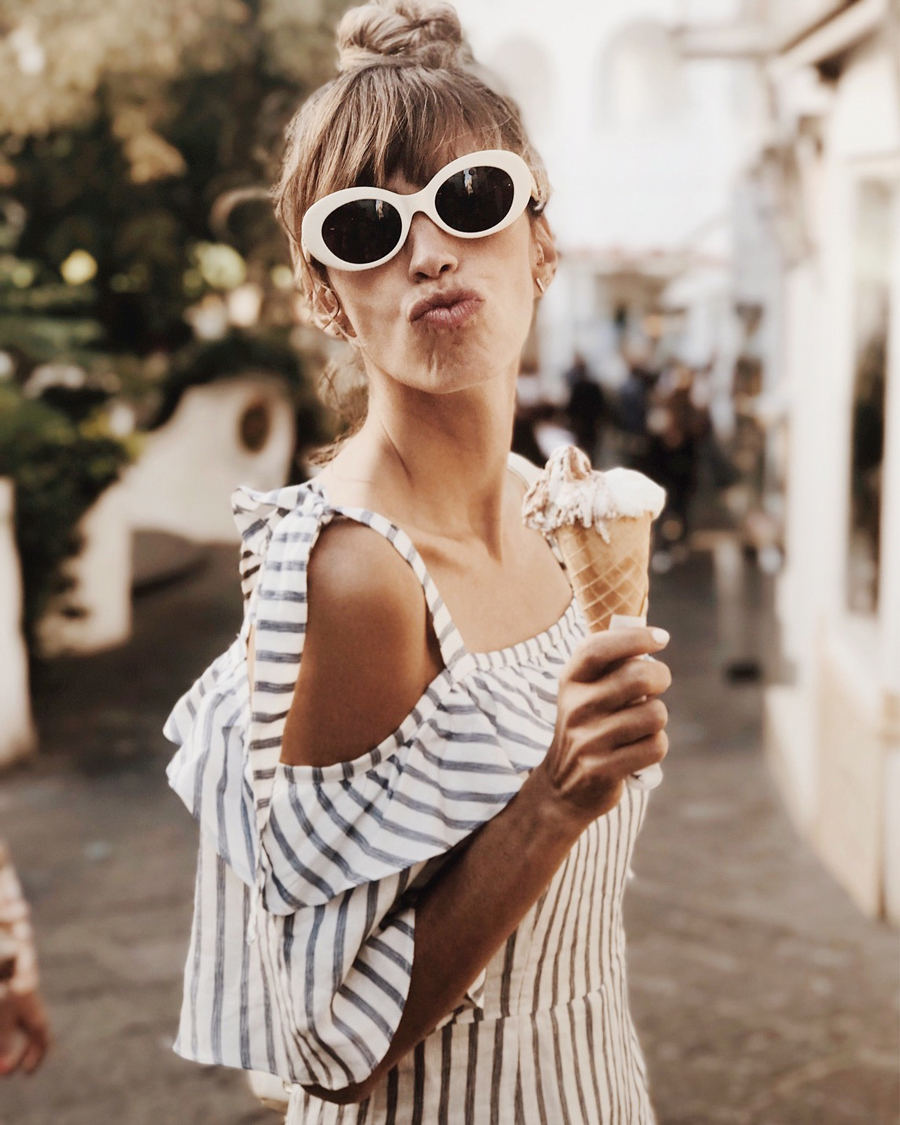 Pantones of the Post

Shop my travel essentials:
---
Colors (left to right) // Pantone Black 659C / Pantone 7749C / Pantone 475C / Pantone Warm Gray 7C / Pantone Warm Gray 3C //